Mentor Teacher Program
The CalTeach/MAST program has over 150 mentor teacher volunteers in 6 school districts in the greater Sacramento area. You could be one of them!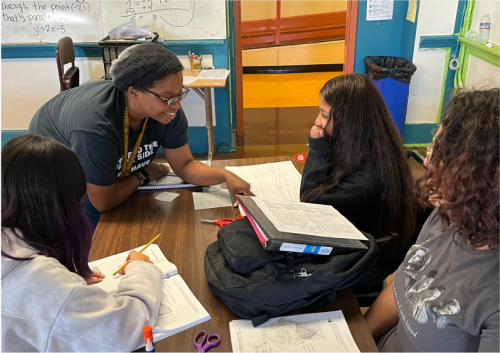 Why would you choose to invite another person into your classroom? Your role as a mentor teacher would be to encourage the development and growth of your CalTeach/MAST student intern and to ensure the student intern assists in a steady improvement of student learning in your classroom. CalTeach/MAST student interns are UC Davis STEM undergraduate students who have an explicit interest in teaching and many of them will become teachers.
The mentor teacher's role is critical in guiding CalTeach/MAST student interns to develop their planning, instruction, and content knowledge. Mentor teachers help CalTeach/MAST student interns understanding their role in the school community and to teaching in general. As a mentor teacher, you will provide a valuable service by accepting a CalTeach/MAST student intern into your classroom!  There are many benefits of mentoring for both mentor teacher and student intern as well as benefits for the school and your classroom. Having opportunities to offer deep, practical knowledge, both pedagogical, content and experience, can be a very rewarding and mutually beneficial aspect of effective mentoring.
Become a Mentor Teacher!
We are grateful for the many teachers who are willing to devote the time and effort needed to encourage and mentor UC Davis CalTeach/MAST student interns as they decide if a career in K-12 education is for them.
For more information on how to become a mentor teacher please email

mast@ucdavis.edu

.
You would help CalTeach/MAST student interns:
Understand

the room dynamics of your classroom

Work on

classroom management strategies and how to develop positive guidance

Make curriculum materials available and guide intern towards teaching parts of your classes

Help them to access facilities and equipment

Inform about your classroom setting, including the background interests and abilities of the students, learning programs and resources

Where appropriate, help introduce the

CalTeach/MAST student intern

to the school site, including introductions to staff, provision of rules and expectations, explanation of responsibilities
In addition, you would:
Engage the

CalTeach/MAST student intern

in collaborative teaching where appropriate
Provide time, information and resources to enable the

CalTeach/MAST student intern

to meet the requirements of their class (EDU/GEL 081, EDU/GEL 181, EDU/GEL 183)

Talk in a reflective way about teaching practices

Help initiate the

CalTeach/MAST student intern

into the culture of the educational context and community

Engage in reflective practice and evaluation of teaching experiences

Liaise with the Academic Coordinator and/or course instructor as necessary

Ensure that appropriate school procedures are followed if applicable.

Complete an overall summative evaluation (form will be provided).