Become a Student Ambassador


CalTeach/MAST Student Ambassadors are a select group of students representing the CalTeach/MAST program in a variety of functions including community events, promotion and recruitment events, conferences and Picnic Day.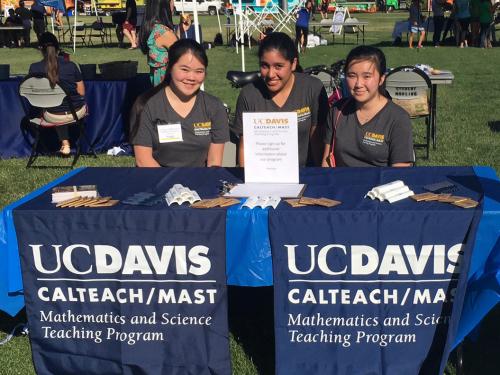 Our CalTeach/MAST students come from diverse backgrounds and demonstrate excellent communication skills and leadership potential. The Student Ambassadors serve an important role by providing resources and information about the CalTeach/MAST Program at UC Davis.
Eligibility Requirements
Currently or previously enrolled in EDU/GEL 081, EDU/GEL 181, EDU/GEL 183 or GEL186. 


Have excellent communication and leadership skills, enjoy meeting and talking to new people, and pride in being a part of the CalTeach/MAST program at UC Davis. 

Duties (in-person or virtual): 

Assist CalTeach/MAST staff with campus events:  Freshman Decision Day, Transfer Decision Day, tabling events, panels, and other campus recruitment efforts.

Assist CalTeach/MAST staff with off-campus events at nearby Community Colleges.

Present two-minute informational talks in STEM classes regarding the CalTeach/MAST program.

Disseminate information regarding the CalTeach/MAST program to UC Davis student body

Occasional special assignments: helping assemble flier and pamphlets, Picnic Day and program information.
Commitments
Prospective Student Ambassadors must complete a short application form to be considered.

The Student Ambassador Program will require an academic year (not single quarter) commitment. Once you are selected to be a Student Ambassador, you will serve in that role through the three-quarter academic year (not in summer).

Student Ambassadors are required to attend an information/training session and a weekly Student Ambassador meeting.

Student Ambassadors must complete a minimum of 10 hours of service in Fall Quarter, 10 hours in Winter Quarter, and 10 hours in Spring Quarter.

Service opportunities will be announced via email (please provide an email address that you check frequently) and during the weekly Student Ambassador meetings.

Student Ambassadors must be reliably present for scheduled time commitment at events, and display a positive and cooperative attitude at all events and presentations.

Student Ambassadors must be available for occasional evening and/or weekend event

s.
Benefits to Student Ambassadors
Students will receive a $100 stipend per quarter.

Experience! This is a great resume and job application builder.

Involvement! Be in the middle of exciting events happening at UC Davis.

Networking! Meet a variety of interesting and helpful people ... current students, prospective students, staff, faculty, administration.
How do I get involved?
If you are interested in being considered as a Student Ambassador for the UC Davis CalTeach/MAST program, please contact MAST@ucdavis.edu with "CalTeach/MAST Student Ambassador" in the subject line.
---